Tools and Machinery Spare Parts Replacement Center
Chainsaw Chains Accessories Replacement |Wholesale
Chainsaw Saw Chains (Chainsaw Saw Chains), is an important part of the chainsaw, used to transmit power and cut. It consists of a series of interconnected drive links, cutting links, blades and drive teeth forming an endless loop that wraps around guide rods and is powered by the engine. The design and characteristics of the saw chain directly affect the cutting performance, efficiency and safety of the chain saw.

We provide (Chainsaw Chains) replacements for a variety of brands, you can tell about the model of the product, and we will match the appropriate (Chainsaw Chains) to you.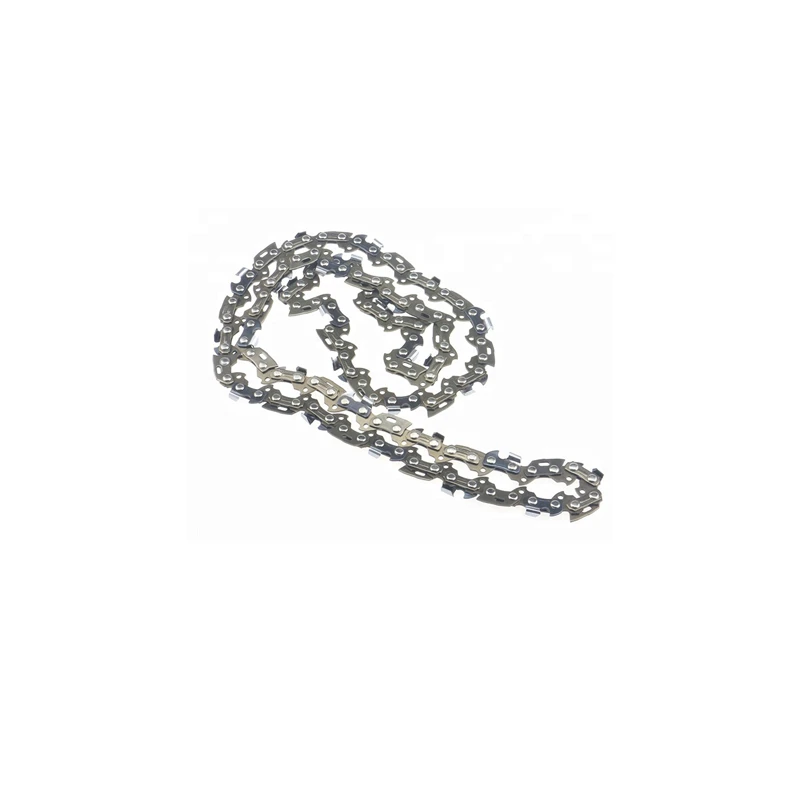 Chainsaw Saw Chains
Tips:
Consult your chain saw manual and manufacturer's recommendations to ensure the saw chain you choose is right for your specific application.

1、Pitch: The pitch of a chainsaw chain is the distance between three consecutive drive links divided by two. It determines the degree of bite of the chain, affecting the driving speed and cutting effect of the chain.
2、Gauge: The tooth thickness of a chainsaw chain refers to the thickness of the drive link. It must match the width of the cogs on the guide bar to ensure the chain fits the guide bar and allows for the above movement.
3、Cutting Links: Cutting links are the blade sections of the cutting chain that directly contact and cut the wood. Cutting link design and edge shape affect cutting speed, cutting efficiency and sharpness retention.
4、Drive Links: The drive teeth on the drive link connect the saw chain to the sprocket, which sets the chain in motion. The number and location of the drive links are matched to the drive system of the chain saw.
5、Cutter Type: Saw chain blades can be of different types such as full chisel, semi-chisel and low-profile. Different types of inserts are suitable for different cutting tasks, affecting cutting efficiency and cutting performance.
Hustil was founded in 2000year, we are Your Garden Accessories Replacement Center , we provide our Clients with a full range of accessories search queries, garden tools fitting replacement and after-sales service.
In addition, we have another official website, ——http://www.ootools.com. On ootools, you can find a variety of garden tools, agricultural and forestry equipment and all kinds of lithium battery products. If you are interested in this, welcome to contact us, we will wholeheartedly provide you with the best quality answers and services.